Halloween Makeup
Halloween is just one week away, so it's time to start planning your outfit. You don't have to buy an expensive and elaborate outfit to look amazing - just let the makeup do the talking with these simple yet incredibly effective halloween makeup ideas.
Before you start all you need to purchase is a halloween makeup set like Snazaroo (available in most supermarkets). It's only £4.99 and perfect for Halloween makeup.
1. Ventriloquist Dummy
The ventriloquist dummy is my favourite and most simple halloween look to achieve. All you need is your normal makeup (some pink blusher, red lipstick and mascara), some fake eyelashes and a basic halloween makeup set with black and white paints.
Apply your make up as normal but add mascara to your top lashes only and be generous with your blusher. Make your eyes extra wide by applying white paint an extra half an inch underneath your bottom eyelid and applying your fake lashes at the bottom edge(these need to be added upside down as they are replacing your actual bottom lashes). Make your ventriloquist mouth by adding red lipstick to your top lip and and white paint to the bottom lip. Use black paint to draw in the top teeth on your bottom lip. Draw and fill bottom teeth and lips to your chin area and fill the space in between with black paint. Finish the look by adding some black dots for freckles accross your nose and chin.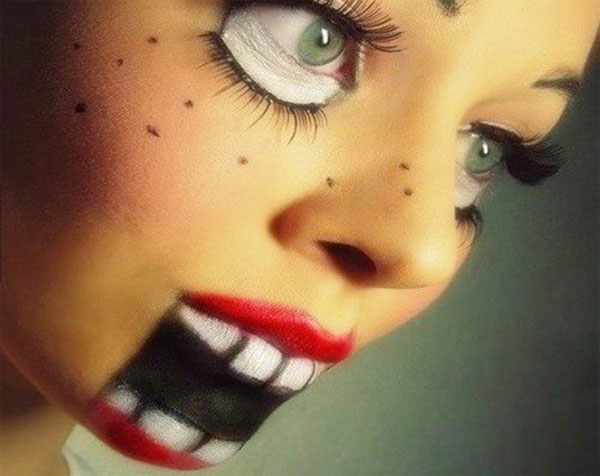 2. Cat
Become a sexy halloween cat with this simple yet incredibly effective look. Apply an evening makeup look with dark smokey eyes , very long false eyelashes and deep red lipstick. Use a black khol eyeliner pencil to draw on a cats nose and whiskers. Add some cute cats ears to finish the feline look.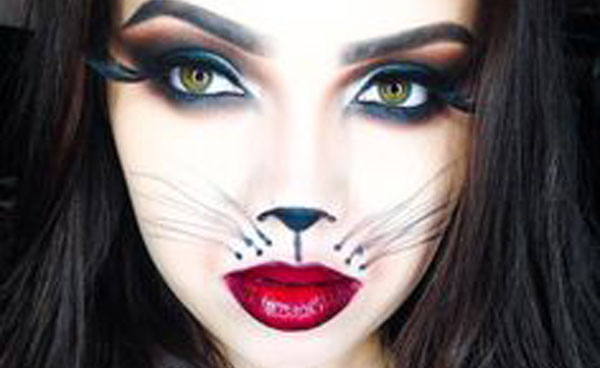 3. His 'n' Her Skeleton Wedding
What could be cooler than turning up at a halloween party as a skeleton bride and groom? And the good news is this is a really easy look to achieve, using black and white halloween face paints.
To start apply white paint to your whole face then outline your eye sockets with black paint and fill. Apply black paint in an 'M' shape to your nose (the sides of the M should wrap around your nostrils) and fill. To achieve the teeth use black paint to draw a line from the corner of your mouth toward your ear, about three inches, on both sides then draw a vertical line down the center of your mouth, from just above your top lip to just past your bottom lip. Draw six more vertical lines about half an inch apart each side of the center line. To obtain the perfect skeleton cheeks add black paint to hollow out areas on the side of your face (one hollow area should be close to your teeth and the other closer to your ear, on your cheekbone). Draw a straight line that connects the two hollow areas.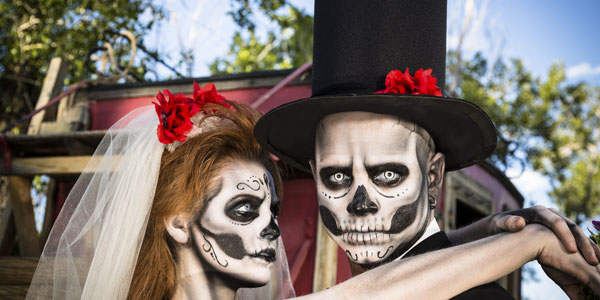 To complete the look add some extra finishing touches... use the black paint to shade underneath your jawline and down your neck and your hairline. Use a thin brush to draw some curved lines above your eyebrows, along your cheeks and chin. Add a veil and top hat to become the bride and groom!
4. Clowns
There's nothing more scary than a halloween clown. To get this look you will need black eyeshadow, a fine paint brush, a soft eye shadow brush, face paints and some 'draculas blood'.
Start by using applying white paint to the whole of your face. Create a circle around your eye socket using black paint and fill. Use a fine brush to add a point coming from the circle to up past your eyebrows and down below your cheek bones. Smudge the lines around the eyes and points by adding black eyeshadow with a soft eyeshadow brush. Next, paint on black eyebrows half an inch above your normal eyebrow and add a few extra smaller lines above this. Draw a black circle around the nose and fill with red facepaint. To create the lips, use black paint and the fine paint brush to create a large lip shape that goes right up into the cheek area. Then, draw in the teeth using your lips as a guide for this. Fill your newly drawn 'lips' with red paint. Finish the look by adding draculas blood to your eye area and some scary contact lenses for maximum effect!
5. Sugar Skull
For this look you will need your basic halloween paint set, as well as some dark blue / purple eyeshadow, a black eyeliner pencil and a red lip pencil.
To start apply white paint with a sponge to your whole face then draw a black circle to your eye sockets and fill. Add dark blue / purple eye shadow to the eye socket areas to create a pretty, shimmery effect. Use your red lip pencil to draw small half circles around the edge of your eye socket and fill with red paint (for extra wow factor, why not add some small diamontes to this using eyelash glue to stick). Draw on your nose with a black eye pencil, using an 'M' shape around the nose area and joining at a point on the bridge of your nose. Fill with black paint. Next, create a skull-like mouth by simply drawing a line from each lip corner towards the cheek area and adding lines to form the teeth. When this is finished you can decorate the rest of your face with swirls, flowers and diamontes to create your own individual look.
6. Pop Art/Comic Girl Makeup
I love this cool makeup look and it's no where near as difficult to achieve as it may seem. To start, apply a lighter shade of foundation than you usually use to your face and neck. To get the dramatic comic book look, you need to accentuate your features to appear as if you are a drawing so using a thin brush and the black paint draw: a line down the centre of your nose, where your nostrils meet your face and around the inside of your nostrils to create a shadowy look; dramatic and dark eyebrows; your upper hairline, jawline and outline of your lips. Apply a good amount of bright blue or purple eyeshadow up and over your eyelids until just below your brow bone, then outline your eyeshadow with black paint and draw fake lower lashes. Apply thick eyeliner, mascara and fake eyelashes (the bigger and bolder the better!).
When this is complete add pink or white dots for the full 'comic girl' effect. You can use face paint, lip liner or lipstick to do this but I find lip liner the easiest. Use a ruler to add these diagnally and the same size and shape. Finally add red lipstick and line these with a black pencil. Complete the look by adding a yellow, orange or blue wig.