Top 10 makeup
mistakes
There are so many makeup products out there from primers and foundations to differing shades of blusher, so it's easy to get lost along the way. Below are the 10 most common makeup mistakes that people make and how to fix them.
1. Applying makeup to dry skin
Applying foundation to dry and flaky skin can end up highlighting the flakes by sitting on top of it, rather than blending into the skin. Solve the problem by exoliating reguarly and using a rich moisturiser.
2. Matching foundation to the back of your hand
Most people test out their foundation on the back of their hand. This is a mistake and can result in a wrong colour match. To find the best colour for your skin, test it on your cheek and near your jawline. The right colour should blend into your natural skin tone. If you want a sun kissed look, add bronzer - not a darker foundation.
3. Using the wrong under eye concealor
Choosing the wrong shade of concealor for under your eyes can actually end up highlighting the area your are trying to cover! To make sure your shade is correct try it on the back of your hand - if it's too light there, it's probably too light for your face. The right concealor should be just a shade lighter than your foundation.
4. Over bronzing
Bronzer is brilliant for making you look fresh, bright and glowing. However, applying bronzer with too much of a heavy hand can result in looking over tanned and in some cases orange. To avoid this, choose the right shade (it should be no more than two shades darker than your foundation) and apply a very light layer of bronzer to the whole face with a big fluffy brush. Then add a little more to the hairline / upper forehead, just below the cheekbone and jawline.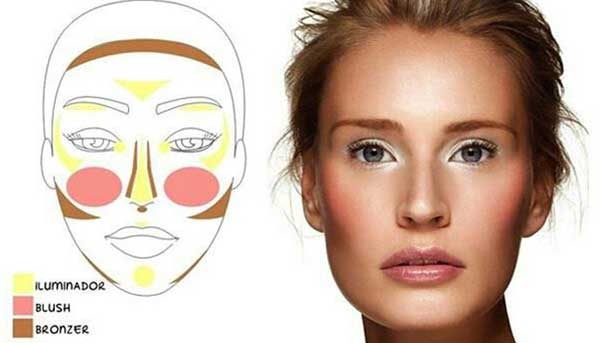 5. Applying your blusher incorrectly
A common makeup mistake is applying blusher to the apples of the cheeks. For a flattering finish, use a flattering colour (try rosy pinks and peaches on fair and medium skins; and corals, berries and bronzes for darker complexions). Start by applying your blusher along your cheekbone, using the centre of your eye as a starting point. Apply using a circular motion upwards, which will result in a slimming effect.
6. Trying to make your lips bigger with lipliner
We've all heard the trick of making your lips bigger by adding lipliner just outside of your lip edge... unfortunately, one false move with the lipliner can leave you looking more like a porn star than a beauty queen! If you're brave enough to attempt this look, apply the lipliner as close as possible to your lip line and use a lipliner all over your lips (so if it fades you won't end up with just a line around your lips!)
7. Not using primer
A lot of people don't think they need to use primer. This is a mistake as skipping using primer is a missed opportunity. Primer creates a smooth, hydrated skin surface that will keep your make up in place for longer. Not sure how to use it? Apply primer after moisturising and before foundation.
8. Wearing too much foundation
Makeup should enhance your beauty not cover it! You should let your skin show and use foundation to smooth skin colour and correct minor flaws. If you have acne or red skin, use a green colour corrector first, then your foundation and use concealor to target specific areas.
9. Over powdering
Using too much powder stops your skin glowing and can make your face look caked on with make up. If you have oily skin, it is better to apply a light layer of powder and blot your skin with film papers throughout the day.
10.Applying your makeup in the wrong lighting
Lighting is everything! Applying make up in a badly lit area is one of the most overlooked beauty mistakes. Always try to apply your makeup in natural lighting or a well-lit room... if not your blending imperfections will be noticed as soon as you leave the house.