Which bride are you?
Makeup is an incredible tool that can enhance your best features. It can transform your style and the mood of your wedding.
When your wedding day is the biggest day of your life you naturally plan every tiny detail... the venue, the dress, the flowers, the music and the favours - so why should your makeup be any different? In my experience, hair is often planned but usually the makeup details are more of an unknown. Most brides will come to us with an idea of what they usually like to wear and a few images of classic styles they like, without knowing the full potential of what they could achieve with their face and how this could blend in with their whole look.
This is why we thought it was a great opportunity to showcase 4 different looks for you all on one model to help you decide which bride you want to be on your big day!
Each of these looks is unique and beautiful, and we have named these accordingly to help you decide how each might fit into your wedding day style and feel.
So, let me introduce our lovely model, Tyla who let us spend the day transforming her with four unique bridal looks.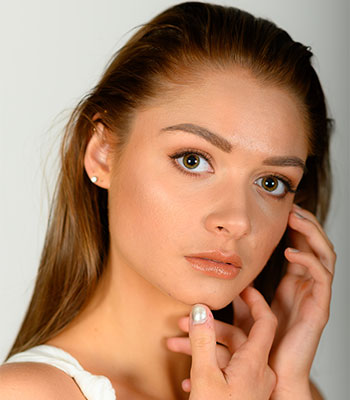 The natural bride:
The natural bride is someone who connects with the makeup maxim of 'less is more'. The central motivation of this style is to use subtle tones working in harmony with the brides natural skin tone and colouring to achieve a beautifully healthy and radiant finish.
Key areas of focus include glowing skin with a soft contour to bring out the cheekbones. All colours are harmonised to fit in with a bride's natural tones complimenting the features of the face. As with Tyla we frame the face with perfect brows, naturally enhanced eyes with soft eye shadows and individual lashes. All of this is finished with soft, glossy lips.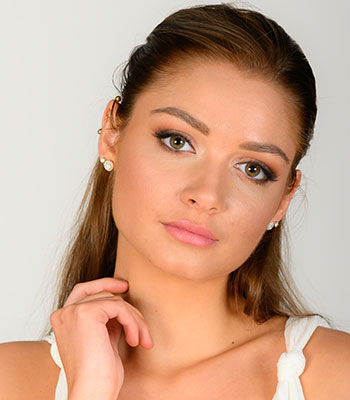 The classic bride
The classic bridal look is all about perfect coverage with a striking eye. Working with your eye colour we will apply the right tone of eye shadow to really bring out your eyes, using our expertise to ensure this is applied in a way that really compliments your eye shape (whether this is hooded, almond, close or wide set). We will then add the right shade of pinks to your cheeks and lips which will bring together the whole look.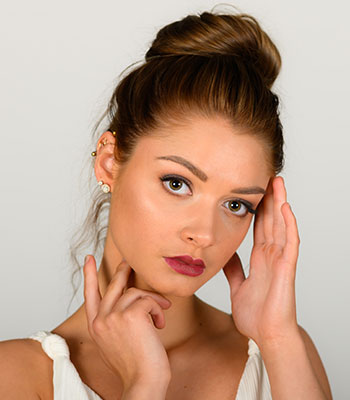 The boho bride
The boho bride is all about paired back makeup with a strong berry lip. Here, we still keep the beautifully natural glowing skin but add soft grey smokey eyes and strong berry lips, which gives a modern feel to today's bride. This look is strong enough to stand out but soft enough for a day time look, lasting through to the night.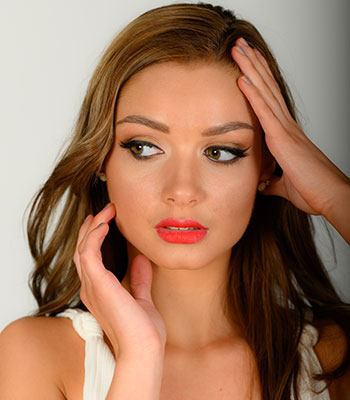 The glam bride
With dresses and venues being more striking than ever, why not reflect this in your makeup look? More and more brides are asking us for a glamorous look which is not too OTT and still fitting for a wedding. Here, we are steering away from the over heavy done 'Insta' looks and drawing on an ultra-modern style that will make your eyes pop and lips stand out, whilst still managing to keep that elegant glamour.